Youth Sunday School meets in Room 228-230
(2nd floor music room)
Youth Group meets in Mulitpurpose Room


Working & Playing Together...
Carolina Cross Connection 2020

Registration is now open for CCC 2020! Sign up HERE
Carolina Cross Connection (CCC) is our local mission and will be June 14th-20th 2020. Space is limited, Deposit is due at time of registration.

Deposit Due at registration:$50.00
Payment 1 (Due March 1st 2020):$100.00
Payment 2 (Due May 3rd 2020): $75.00
Total Cost:$225.00

A CCC Home Repair gives youth and adults the spiritual renewal of a camp experience and the life-changing opportunities of weeklong mission trip. While the work is challenging, CCC makes it easy for your group to worship, serve, and grow. We provide the location, training, tools, supplies, and connection to families in need. You and your students provide the hands, heart, and soul of Christlike service. During a week in the summer, your group will perform a variety of home repairs for the unemployed, the disabled, the elderly or single parents and have an amazing time sharing God's love! A typical week at CCC includes serving 2-3 different families through the following types of projects:


Building wheelchair ramps, porches and steps
Underpinning mobile homes
Yardwork, mowing, weedeating, and raking
Painting inside and outside of homes
House cleaning, window washing, and more
Let Your Perceptions Shatter! You are not alone, so let your perceptions shatter! We are all broken. We are all tempted. We all make mistakes. We are all in this together. "But he said to me, 'My grace is sufficient for you, for power is made perfect in weakness.' So, I will boast all the more gladly of my weaknesses, so that the power of Christ may dwell in me." – 2 Corinthians 12:9 (NRSV)


Pilgrimage will be November 8th-10th
Fall Festival 3:00 pm-6:00 pm ~ Trunk-or-Treat 5:00 pm - 6:00 pm
Celebration of the Season! With Trunk-or-treat, petting zoo, Cake Walk, bouncy houses and fun for the whole family! All are welcome, this event is free however it does require a wristband ticket.
Intergenerational Mission Trips ~ 2020
Though we have just finished our mission for summer 2019 it is time to start praying and preparing for summer 2020! We will have TWO wonderful opportunities for our youth (and parents!)

There will be an interest meeting for our 2020 International Mission on September 12, 2019 at 6:00 pm! We encourage ALL youth families to attend to learn more about this opportunity! (Light Snacks will be provided)

Mission Experiences Dates:
June 14-20, 2020-Carolina Cross Connection: Manteo
July 27- August 3, 2020 (tentative)- Honduras


Please contact Michelle Oketcho at youthdirector@trinityumc-jax.org.
2019 Mission to Charlotte NC
Senior Sunday Graduation Celebration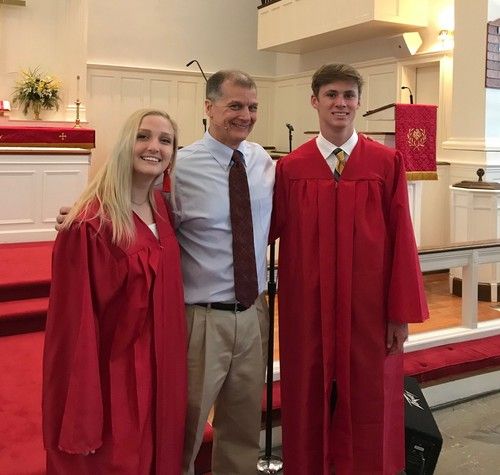 Each year we honor our graduating Seniors at a Sunday worship service. They are invited to come in their caps and gowns and process to the strains of "Pomp and Circumstance." Trinity also awards scholarships to their youth. This year, to the Class of 2019, the following scholarships were awarded:
Morris E. (Mike) Ransom Scholarship:
$1,000-Cameron Jones
Richard Ray Scholarship:
$1,000-George Vrachnos
United Methodist Men's Scholarship:
$1,000-Sydney Hassell
Lids 4 Kids/Jonathan Fulcher Scholarship:
$1,000-Starling Sturm
Trinity Scholarship:
$1,000-Austin Brewer
Congratulations to 2019 Confirmands!
Troy Bieren
Reid Nelson
Alex Ota
Lilly Tallman
Liam Thompson
Benjamin Tomazic
Sydney Deeble
Megan Farrelly
Caroline Flanagan
Gavin Luczak
Bryleigh Nelson
We'd love to hear from you. Fill out the form below to get started.